Director of Outreach and Social Media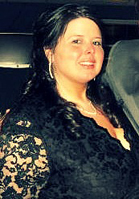 Nina Parson
Director of Outreach and Social Media
SAP Hotels, LLC
Nina Parson has 15 years of experience in the hospitality industry in a variety of areas including sales, marketing, revenue management, social media, operations, and guest relations.
Nina has worked and been trained by several of the top brands including Hilton, Marriott, Wyndham, and Best Western. She has experience in focus service and full service hotels, brand conversions, new hotel openings, airline contracts, motor coach industry, and history of securing and working with large corporate LNR accounts.
Nina began her hospitality career in the reservations department with Cendant now Wyndham Hotels and was a supervisor over reservation agents for the brand. After graduating from the University of Tennessee with a degree in hospitality and tourism she moved to Ohio and starting working as a Sales Coordinator at a Hilton Hotel and rose to the position of Area Sales Manager for Alliance Hospitality during that time completing her degree in Sales & Marketing from Keiser College.
After leaving Alliance Hospitality Inc. Nina went on to open the Aurora Inn & Conference Center with SAP Hotels. While there Nina worked on both sales and operations to reopen the hotel and then manage the day to day operations. Nina oversaw the day to day operations to repair and renovate the hotel to meet state and local codes for re-opening. She worked to set up this independent property on all third party booking sites, marketing, gaining negotiated accounts, and setting up the new property management system.
Hotels Nina then moved to Cleveland SAP office to oversee sales, marketing and social media.
Nina supervises all social media for the hotels under SAP Hotels Management. Making sure each property is using the proper techniques and marketing tools to keep a good online reputation and capture the most revenue possible via this marketing avenue.